It is about 3 hours to race time. I have been up since 4 to get my coffee, water, breakfast, and some Gatorade into the system. I am just about to embark on fitting my bike into my Escape(the old school Escape with a tape deck!). As I prepare my mind for this race here are the thoughts going through my head.
1. What are you doing in this race?
2. How jelly like are my legs going to be after riding 14 miles on a bike? The furthest I have rode on a bike is 8 miles and I could barely walk due to the jelly like state of my legs afterwards.
3. Please God don't let me crash or make someone else upset.
4. Will I look like a complete newbie with my basketball shorts on?
5. How do I transition? I have never seen this happen before. Should provide as entertainment.
6. Suck it up Aaron and Get It Done!
Below is the basic structure of the course. I have posted my projected goals for each leg of the race. This is purely guesswork as I have no idea how the bike ride will go or how my legs will feel after the bike ride.
Davenport Duathlon - Course
Run #1
- 2 miles - My goal is to run this in 15 minutes or less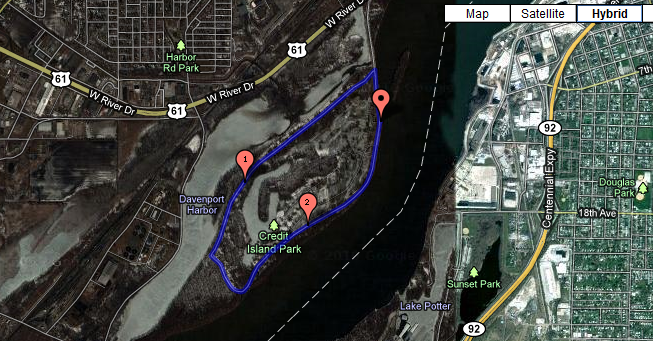 Bike
- 14.5 miles - Ideally I would like to ride at 14 mph on my bike and wrap this portion of the race in under 1 hour 5 minutes. This would include transition time.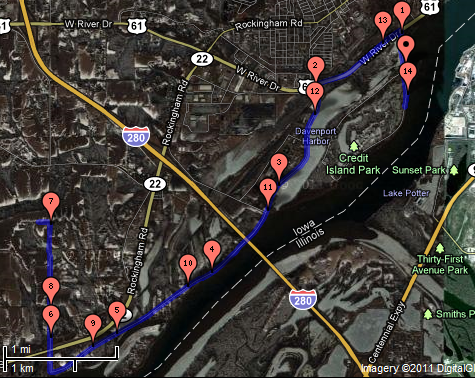 Run #2
- 3.1 miles (5 km) - I really have no idea how my legs will feel as I have never done this before, but I would like to get this part done in under 24 minutes which is about an 8 minute pace. I hope I would be able to run faster, but who knows.
f
This would put my overall time at 1 hour 44 minutes. Adding in the transitions I would guess that would mean 1 hour 50 minutes for the race. Not sure how that compares with being fast or slow, but I am assuming slow as I know the ones who have good bikes and know how to ride a bike will be moving at around 20-25 mph.
I will let you know how it goes. Time to pack up, shake out the nerves, find out how to put a number on my bike, find out how transitions work, maybe find some rules that I should be aware of, and just go out push myself and have some fun.
Please go away rain to eliminate any further chances of injury.
What are you doing this weekend to reach your goals?